Seybolt Named Cal Poly Honored Alumna

Kelli Seybolt accepting her Honored Alumna award at Cal Poly's Homecoming, Oct. 31. (Left to right) Kristie Boyett, Cal Poly Alumni Association President; President Jeffrey D. Armstrong; Kelli Seybolt; and Douglas Epperson, Dean of the College of Liberal Arts

by Joi Sullivan
Among the youngest women to reach the civilian equivalent of a general officer in the U. S. Air Force, Kelli Seybolt inspired students at her talk in October.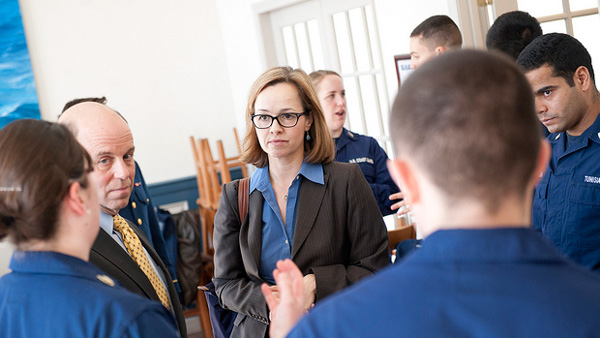 Seybolt and Gary Rasicot, the Coast Guard's
director of marine transportation systems,
met with international cadets during a luncheon
at the U.S. Coast Guard Academy Feb. 20, 2014.



Seybolt speaking on "Security Cooperation-
Building Maritime Partnerships" during the
International Maritime Panel Discussion
April 7, 2014, at the Sea-Air-Space Exposition.
Photo: Lisa Nipp


The creative and distinct title of her talk, "Bananas, Terrorism and the South China Sea: Global Partnerships, National Security, and Making a Difference in Public Service," speaks to Seybolt's unique experiences since graduating from Cal Poly with a degree in political science in 1990. 
Seybolt's path to her current position as the director of international affairs and foreign policy advisor for the U.S. Coast Guard was not a straight shot from graduate school. It involved numerous internships and jobs in different departments within the public service sector, including a Presidential Management internship. Seybolt's career trajectory served as encouragement to students who are about to graduate and embark on similar journeys with an unknown destination. 
Seybolt talked about the lack of protection of fish stocks in sovereign waters, which can drive unemployed fisherman to piracy in Somalia; China's ability to stop the importation of Filipino bananas into the Chinese market; the significance of global partnerships; and the flexibility of the Coast Guard. The topics provided students with examples of how their classes have prepared them for the future and how geo-political dynamics, economics, globalization and the military continually intersect.  
Having worked at the U.S. State Department, the Pentagon, the Air Force, and the Coast Guard, Seybolt's insight into the career possibilities and the dynamics within different governmental departments proved helpful for students interested in public service. The perfect career may be at one's fingertips; it is essential to be, (in the words and motto of the U.S. Coast Guard) Semper Paratus, "always ready."
At Cal Poly's Homecoming (Oct. 31-Nov. 1), Seybolt was among  six distinguished Honored Alumni recipients. The award — the highest honor bestowed upon Cal Poly alumni — recognizes one outstanding graduate or former student in each of the university's six colleges.
Download a pdf of this article or a pdf of the full newsletter.
Related Content