Wednesday Weekly: October 11, 2023

Connect with Us
3. Follow the POLS Department on Facebook, Instagram, Twitter, and Linkedin
JUMP TO...
Upcoming Events
Department News
Wondering Who Your Concentration Advisor Is?
**When declaring your concentration, make sure you are using the correct concentration form. The appropriate concentration form will list the name of your concentration on the top of the page. You will find all POLS concentration forms here.
MAJORS
AMERICAN POLITICS: DR. MICHAEL LATNER
GLOBAL POLITICS: DR. ANIKA LEITHNER
PRE-LAW: DR. Ron Den Otter
INDIVIDUALIZED (ICS): DR. Jean Williams
MINORS
POLITICAL SCIENCE: DR. MATTHEW MOORE
GLOBAL POLITICS: DR. CRAIG ARCENEAUX
LAW & SOCIETY: DR. Ron Den Otter
For more information on how to declare your major, please visit our concentrations page
Call for Applicants for the 3+3 Program with UC Law SF (formerly UC Hastings)
Third-year POLS students who wish to be considered for the 3+3 program this year must submit a brief statement of interest to Dr. Denbow at jdenbow@calpoly.edu by noon on Monday, October 30. For detailed information and eligibility requirements, see: https://politicalscience.calpoly.edu/33-bajd-program-uc-college-law-san-francisco-formerly-uc-hastings
Information Session on Friday October 27th, 11:30AM-12:30PM, Bldg. 52, Rm. E03
Paideia
Calling on all POLS students to submit your papers to Paideia, Cal Poly's own political science journal! Throughout its 11 years of operation, Paideia has reviewed and published Cal Poly students' strongest research papers and projects into our academic journal. We are always excited to read about the research students have been conducting throughout the year and provide an opportunity for students to enter the professional world through academic publication. If you are interested in publishing your work from this upcoming school year, or a research paper you wrote last year, submissions are open now!
Please visit https://politicalscience.calpoly.edu/paideia to learn how to submit your work or email us at paideia@calpoly.edu with any questions you may have!
Pi Sigma Alpha – the Political Science Honours Society
If you would like to submit your application for the national honours society for political science (Pi Sigma Alpha), please submit attached application form by November 13th (we will accept members in each quarter this year).  The membership requirements for undergraduates are as follows:
* 2.8 CPSLO Cumulative G.P.A.
* 3.0 G.P.A. in Political Science courses
* Must have completed at least 15 quarter units, including one or more three-unit 300-400 level course, with at least a B in each of those courses.
Deadline is Monday November 13th.  Forms should be dropped off in the Department Office, or with Dr Battle.  If you have any question contact Dr Battle at mbattle@calpoly.edu, or in Building 47, Room 12A.  We are only able to accept cash.
Click here for membership form
Student Spotlight
**Come back next week**
Alumni Spotlight
Introducing Alumni Advisory Board Member Lindsey Constantino
During my 4 years at Cal Poly, I lived by the motto of "Learn by Doing." I studied abroad in Florence, Italy, interned for Senator Feinstein and the White House under President Obama, and participated in Model United Nations. All of these experiences leveraged my degree in Political Science and made my undergraduate education that much more valuable.
Upon graduation, I moved to New York for a position at the Institute of International Education, supporting the Fulbright Scholarship program. However, I missed the policy-making world of Washington, D.C., and took a leap of faith by accepting a position at the U.S. Department of Transportation. I quickly became passionate about transportation policy and spent five years working on multi-modal international transportation policy. During this time, I was awarded the Mansfield Fellowship to live in Tokyo and work in the Japanese government. In 2021, I joined the U.S. Federal Aviation Administration in the Office of International Affairs, where I help oversee the Asia-Pacific region to promote a safe, secure, seamless, and sustainable global aerospace system.
A decade after graduation, I continue to draw upon the skills my professors and classmates impressed upon me.  A strong foundation in the theory and practice of government, understanding of different political systems, and the process of policy making have been essential throughout my career. I look back at my time at Cal Poly fondly and still carry the "Learn by Doing" motto with me.
THE VIEWS PRESENTED ABOVE ARE THOSE OF THE AUTHOR AND DO NOT NECESSARILY REPRESENT THE VIEWS OF THE US DEPARTMENT OF TRANSPORTATION AND THE FEDERAL AVIATION ADMINISTRATION.
Fellowship Opportunities
Capital Fellows Programs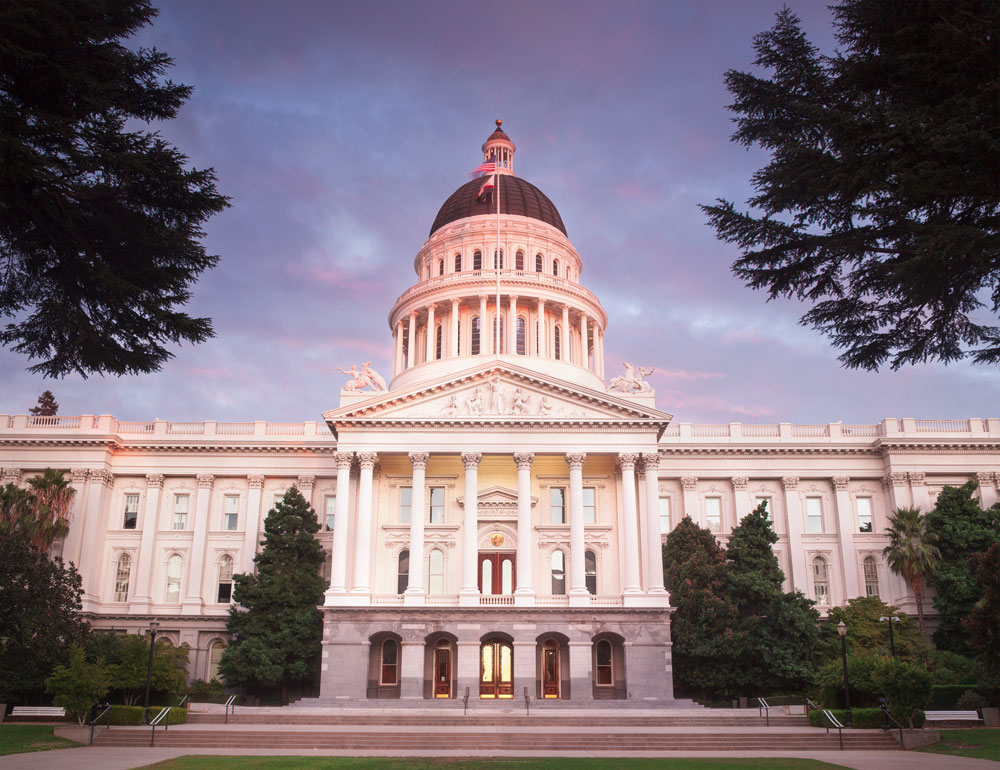 The Capital Fellows Programs are nationally recognized public policy fellowships which offer unique experiences in policy-making and development in each branch of government.
Capital Fellows are placed at some of the highest levels of California state government and assist state legislators, senior-level executive staff, and court administrators with a broad range of public policy issues and projects and are typically given assignments with a significant amount of responsibility and challenges.
Rooted in experiential learning and public service, Capital Fellows spend 10-11 months as part of a cohort working in a Legislative, Executive or Judicial Branch office. Click here for more information. 
Internship and Volunteer Opportunities 
The Office of US Senator Alex Padilla Internship
The Office of US Senator Alex Padilla is looking for paid interns for Spring 2024. The applications are now open The deadline to apply is October 16 at 11:59 EST / 8:59 PST.
Internships are available in his Sacramento, San Francisco, San Diego, Fresno, and DC offices! In the state offices interns will get first-hand experience working with constituents, interacting with communities, assisting with federal casework, and attending events. In the DC office interns will get the chance to work with the Senator's legislative team, press team or scheduling team.
The application link can be found here: https://www.padilla.senate.gov/services/internships/
If you have any questions regarding the application or internship please email Cal Poly alumni Jamie Bernal: Jamie_Bernal@padilla.senate.gov 
The Washington Center- Academic Internship Program
Click here for more information
Professor Shelley Hurt is the Cal Poly faculty liaison. Please contact her with any questions.
Launch a Career You'll Love.
You have the power to design your own professional path, but you still need to know what you want and how you'll get there. That's where a summer or semester in the nation's capital with The Washington Center (TWC) comes in.
TWC's Academic Internship Program is a holistic experience designed to help you gain the experience, skills and network you'll need to succeed, all while earning academic credit.
Program Dates
|   | CHECK-IN | INTERNSHIP PERIOD | CHECK-OUT |
| --- | --- | --- | --- |
| Fall 2023 | August 23, 2023* | August 29 – December 1, 2023 | December 2, 2023 |
| Summer 2024 | January 17, 2024* | January 22 - April 26, 2024 | April 27, 2024 |
| Summer 2024 | May 26, 2024* | June 3 - August 2, 2024 | August 3, 2024 |
| Fall 2024 | August 28, 2024* | September 3 - December 6, 2024 | December 7, 2024 |
* Alternate dates for check-in may be provided by your campus liaison- Professor Shelley Hurt
Application Deadlines
|   | EARLY DEADLINE* | REGULAR DEADLINE |
| --- | --- | --- |
| Spring 2024 | October 4, 2023 | November 1, 2023 |
| Summer 2024 | February 14, 2024 | March 13, 2024 |
| Fall 2024 | March 27, 2024 | March 27, 2024 |
Paid Job Opportunities
**Come back next week**
Other Opportunities
LSAT Workshops
Free LSAT Workshop Wednesday, October 11 at 6:00-7:30pm PT Registration: https://www.testmasters.net/workshop/5074 Free LSAT Logic Games Workshop Wednesday, November 15 at 6:00-7:30pm PT Registration: https://www.testmasters.net/workshop/5085 
Interested in Sustainable Global Development?
Engineers Without Borders, Cal Poly is a student-led non-profit organization that supports community-driven development programs worldwide through the design and implementation of sustainable engineering projects, while creating multidisciplinary and leadership experiences for students. With four international project teams in Fiji, Kenya, Nicaragua, and Local, we work to address issues such as water, education, food security, sanitation, and energy by collaborating with our partnered communities. 
We are hoping to diversify the majors represented in our club in order to fill roles in business and cultural sub teams as well as to harness cross-disciplinary perspectives in designing holistic solutions that fit the needs of our communities.
Whether you're passionate about business development, cultural insights, leadership opportunities, or making a positive impact, EWB has a place for you.
Join us for Crash Course (7-9 PM on 10/2, 10/9, 10/16, and 10/23 in the ATL (Room 07-02)), where you'll learn about the EWB project process, community-centered design, and everything you need to know to join a project team and make a difference!
Go to linktr.ee/ewbcalpoly to sign up for our mailing list, club Slack channel and all other links. 
Student Scholarships and Prizes
**Come back next week**
Campus Announcements
Hamas & Israel - Informational Forum from Religious Studies Thursday UU Hour
With all the tragic events happening in Israel and Gaza right now, many students are struggling to make sense of the news.  The Religious Studies program and Cal Poly Theisms club are hosting an informational forum about the Israel-Hamas war this Thursday during UU hour (11-noon) in 033 -0286 to help students understand the historical context and create a forum for them to ask questions in an academic environment.  
Dr. Lloyd-Moffett, who since 2007 has co-taught the Religion and Politics in the Israeli-Palestinian Conflict course, will give a 25 minute presentation on the historical, political, and religious backdrop to last weekend's events, and then we will have a moderated discussion where students are invited to bring their questions.
Students and faculty are welcome to attend, but we hope all will come with a shared spirit to learn together; there are plenty of opportunities for activism on campus and beyond, but the intent of this forum is educational, where students can come to better understand the events leading up to the many tragic images coming across their feeds. 
If you have any questions, please reach out to me, Steve Lloyd-Moffett slloydmo@calpoly.edu
Join us for ¡Adelante! Cal Poly's Hispanic-Serving Institution Symposium!
Please join the College of Liberal Arts in attending Cal Poly's inaugural ¡Adelante! Hispanic-Serving Institution (HSI) Symposium on Tuesday, October 17 from 9:30am to 6pm with a closing keynote provided by Dolores Huerta. (program below)
Faculty, staff, and students can RSVP using the following link:  https://diversity.calpoly.edu/adelante. 
Click this link for a special announcement video - We hope to see you there!!
HSI Symposium Program 
Tuesday, October 17 - Chumash Auditorium and UU Plaza  
9:30 - 10:15 am | Welcome - Pathway to Becoming an HSI Overview 
10:15 - 11:15 am | HSI Task Force Panel Discussion 
11:15 am - 12:30 pm | Lunch & Resource Fair in UU Plaza 
12:30 - 2:00 pm| Workshops - Servingness in Practice & HSI in STEM 
5:00 - 6:30 pm | Closing Keynote with Dolores Huerta (Registration required) 
Real-Time Occupancy Rates Available for On-Campus Study Spaces
The Kennedy Library Transformation team is launching the Waitz mobile app to help increase access to Cal Poly's study areas and make it easier to track availability of on-campus spaces, during the university's ongoing library renovation. The mobile app will allow students and members of the campus community to check real-time occupancy of the study spaces so they can save time and know before they go. Waitz launches the week of Oct. 9 with the C-7 and H-11 study structures and will expand to the Hub24 and Sierra Madre study spaces before expanding throughout the quarter to other existing temporary study locations. Using predictive analytics, the app relays the busiest times of day for specific study areas and forecasts how occupied the space will be by the week, day or even hour, letting users know if a study site is potentially busy. All collected information goes through a data anonymization process to remove personally-identifiable information. Occuspace, the parent company of Waitz, adheres to industry-leading best practices to ensure the protection and confidentiality of information gathered. Free downloads of Waitz are available from the Apple App Store or Google Play.
National Transfer Student Week! Kickoff is Monday Oct. 16 on Dexter Lawn
The Transfer Center and departments across campus are celebrating National Transfer Student Week — Oct. 16-20 — a week full of building community, connecting transfers with campus resources and sharing transfer pride with the campus. The kickoff is Monday, Oct. 16, from 11 a.m. to 1 p.m. on Dexter Lawn.
CHECK OUT FULL LIST OF EVENTS ON TRANSFER CENTER WEBSITE
October Safer Events Highlight Dating Violence Prevention
Join Safer in October for Dating Violence Action Month 2023: "Pathways to Partnerships." Relationships are a journey — built on communication, trust and continuous growth — and Safer's offerings all month hope to collectively build toward a healthier standard. October also falls within the first six weeks of the new school year, traditionally considered a time of increased risk of sexual violence on college campuses nationwide. Safer's focus will spotlight the intersection between dating and sex, particularly on college campuses. Highlighted events include weekly informal Lunch and Learns at various lawns across campus, weekly collaborative booths, a partnership with the Cal Poly Swimming and Diving Program, collaborative community events and continuous education on Instagram @calpolysafer. For more information on Dating Violence Action Month, including event registration and a downloadable Zoom background, visit Safer's website.
Support Mustangs Struggling with Food Insecurity through Feed Cal Poly
Feed Cal Poly makes it easy for all faculty, staff, students and supporters to donate to Mustangs in need. Food insecurity is a very real and persistent problem on campus. Support of the Cal Poly Basic Needs Initiative through donations to Feed Cal Poly helps ensure all Mustangs have access to the resources they need to succeed. The Feed Cal Poly website makes donating quick, easy and accessible, with no limit on donation size. Simply login and follow the steps. Students with dining memberships also have the option to donate unused dining dollars through the Mustang Meal Share Program. All donors will receive a receipt for tax purposes. Watch for the Feed Cal Poly tent at events throughout campus for more ways to get involved and support fellow Mustangs.
Food Resources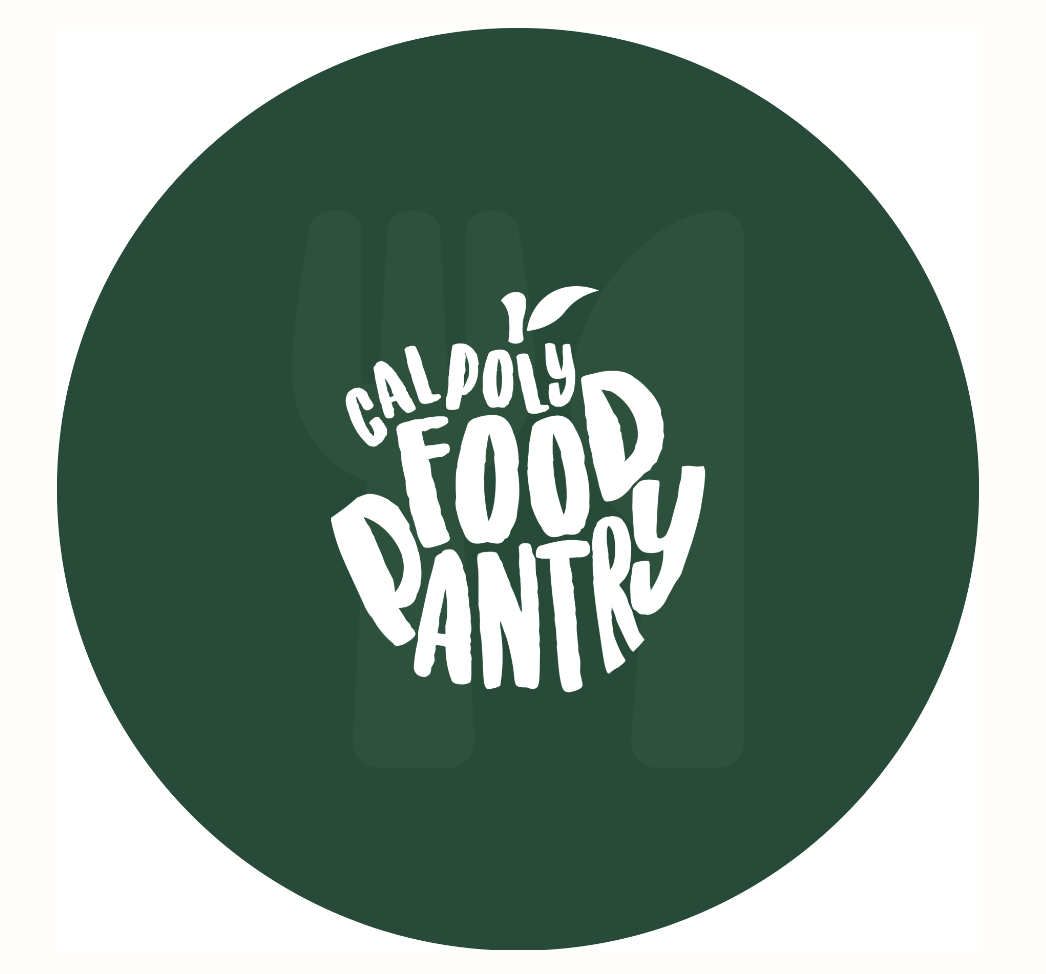 The Cal Poly Food Pantry is open to all students - no questions asked. Cal Poly community members who are experiencing food insecurity or instability are welcome to shop at the Food Pantry, Monday through Friday 8:30am - 5pm.
Our mission is to work with a network of community partners to alleviate hunger in San Luis Obispo County and build a stronger community. Cal Poly hosts a SLO Food Bank Pick Up site open to all on the 4th Tuesday of every month on Mott Lawn.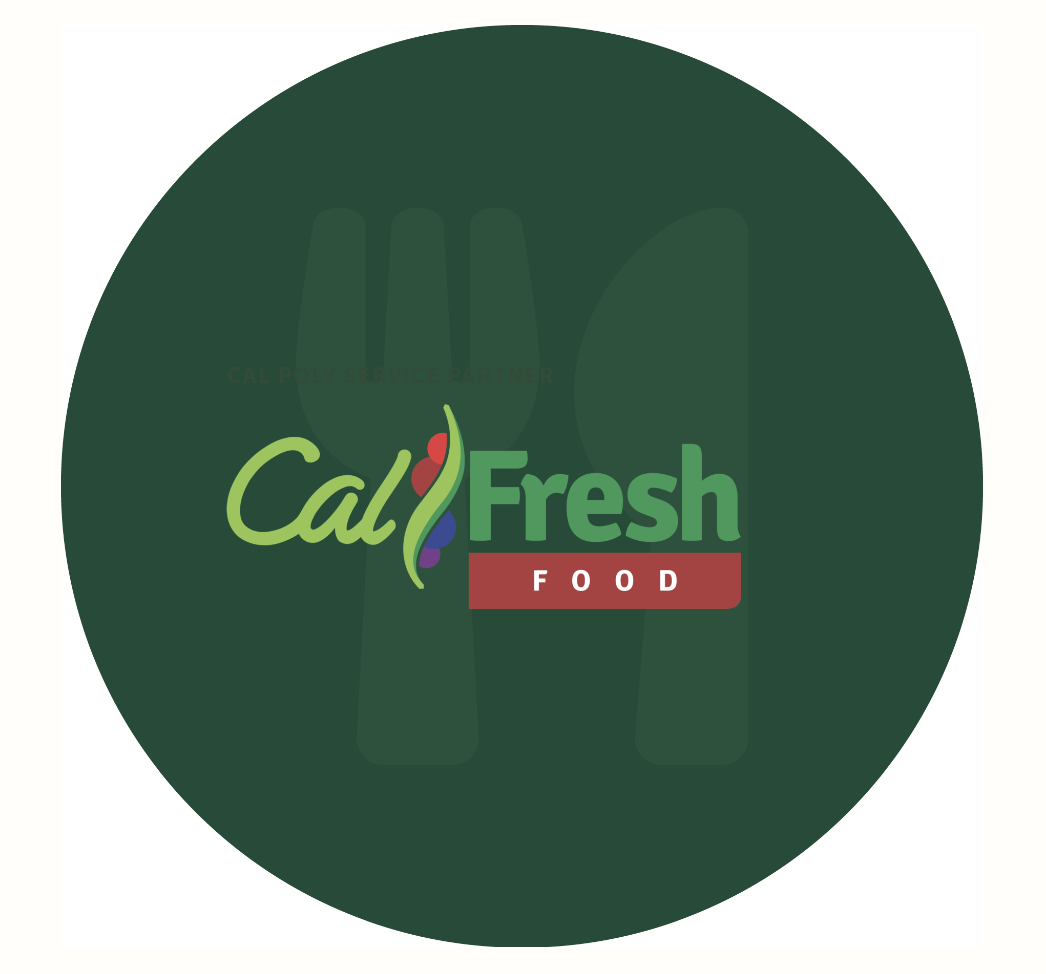 CalFresh is like financial aid for food! The CalFresh Team helps determine if you are eligible for up to $204 per month to spend on groceries and at farmers' markets.
Students can receive up to $75 per quarter to assist with meals on campus at Vista Grande, Campus Market, Red Radish, Mustang Station, and PCV.
Transportation Resource
A service to help Cal Poly students travel home affordably and comfortably with other members of our student community. In October, Ryde was launched with 3 Cal Poly students and we've since welcomed 2,200+ Cal Poly students to our community and helped them travel 160,000+ miles across California while saving them $14,700+ in gas!
Ryde helps students connect with other riders and drivers in the community. Want to learn more about us?
Cal Poly CIE – Summer Accelerator Spotlight
Cal Poly Corporation Highlight
Educational Opportunities
The University of Michigan School for Environment and Sustainability (SEAS)
At the University of Michigan School for Environment and Sustainability (SEAS), you can explore your passions and develop your potential — your way. Our small, supportive community within a world-class university provides access to internationally known faculty, extensive opportunities, and a vast alumni network all dedicated to your success. https://seas.umich.edu/

U.C. Berkeley Political Science Department PhD Program
Are you considering applying for a PhD in Political Science?
https://polisci.berkeley.edu/graduate-program
California State University, San Bernardino Masters Programs
M.A. National Security Studies
The two-year M.A. program provides a comprehensive curriculum with foundations in strategy and strategic studies for students interested in pursuing careers with the U.S. government or with private companies. M.A. program alumni serve in many different career fields, including defense, security, intelligence, and counter-terrorism. For more information, click here.
M.S. National Cyber Security Studies
The two year M.S. program is one of the few graduate programs in the country that is devoted to the study of U.S. national cyber security. M.S. program alumni serve in many different career fields, including defense, security, intelligence. For more information, click here.
University of Oregon Masters in Education Policy and Leadership
University of Oregon a new master of science degree in Education Policy and Leadership. The program combines theoretical grounding in education policy and leadership studies, advanced methodological and analytic training, and applied and practical knowledge in students' individual areas of topical interest. You can reach out to epol@uoregon.edu for questions or visit their website.
Cal Poly Orfalea College of Business Graduate Programs
Faculty Office Hours and CLA Advising
POLS Department Spring 2023
Graduate School Advisor
POLS Department announcing new position, Graduate School Advisor, Professor Shelley Hurt, who has successfully steered many Cal Poly students to great success in graduate schools across the country from UC Berkley to Columbia University, to the London School of Economics in Britain. She is now providing advice to all interested POLS students who wants to pursue their education at the M.A. or Doctoral level in pursuit of a broader horizon of career opportunities. 
Email her or drop by during her office hours (47-11C) on Tuesdays from 1-5pm.
College of Liberal Arts Advising
CLA Advising is available to assist with registration, academic planning, general education and other degree requirements. referral to support services, advice about major changes, and academic policies and procedures.
CLA Advising Center Hours and Contact Information: 
In-person & Zoom Appointments: 
Monday - Thursday: 9:00am - 12:00pm & 1:00pm - 4:00pm
Virtual Fridays: 9:00 am - 12:00pm & 1:00pm - 4:00pm
Monday - Friday, 10:00am - 12:00pm & 2:00pm – 4:00pm 
(hours extended during busy times, see website)
No in-person drop-in advising
Email: claadvising@calpoly.edu
Archives
Related Content