Wednesday Weekly: November 30, 2022

Connect with Us
2. Faculty Office Hours and PDF version
3. Follow the POLS Department on Facebook, Instagram, Twitter, and Linkedin
JUMP TO...
Upcoming Events
**Check back next week for new events**
Department News
Wondering Who Your Concentration Advisor Is?
Majors
American Politics: Dr. Michael Latner
Global Politics: Dr. Anika Leithner
Pre-Law: Dr. Matthew Moore
Individualized (ICS): Dr. Helene Shanruo Ning Zhang
Minors
Political science: Dr. Matthew Moore
Global Politics: Dr. craig arceneaux
law & society: Dr. matthew moore
For more information on how to declare your major, please visit our concentrations page
POLS 285 & 385: Model United Nations & Advanced Model United Nations
Dear Students:

I would like to update you as to the status of our Model United Nations program this year. Typically, we offer POLS285 (4 units) in the fall and, to gain credit for attendance at conferences, POLS 385 (2 units) in the winter and spring. This year, and at this very moment, I am in Spain leading a study abroad program. For that reason, we will offer POLS285 in the winter. It remains a prerequisite to enroll in POLS385, but you can take 285 and 385 simultaneously in that quarter (I will distribute permission numbers in our first 285 class meeting). Tentatively, but perhaps certainly, our plan is to attend the Berkeley MUN conference in SF in the winter (3/2 to 3/5), and the National Model UN conference in NY in the spring (4/2 to 4/6). You can look over the details of these conferences at: www.ucbmun.org, and www.nmun.org.

Also, please know that you can take POLS285 without conference attendance just to learn more about the United Nations. Likewise, you can attend one conference or the other, or both. And if you have attended a conference in the past, you can do so again- just contact me. If you have any other questions, do not hesitate to contact me. Also, I encourage you to recruit any student colleagues who are not POLS majors. Unfortunately, we can only send block messages to our own majors and minors. And, fact is, Model UN draws upon the expertise of students in a variety of disciplines since we debate issues ranging from agricultural use, climate change, economic change, health policy, and beyond. So those outside of Political Science may be interested. 

Professor Craig Arceneaux (carcenea@calpoly.edu)
Registration Timeline and Course Descriptions
Click here to find updated course descriptions for upcoming Winter 2023 courses.
Registration Timeline:

NEW COURSE- POLS 430 Disability, Identity and Politics
Prof. Matthew Moore will be offering a new course in Winter 2023—POLS 430: Disability, Identity and Politics.
Description of POLS 430 
The course examines ideas and texts from two social movements: the mainstream disability rights movement, which treats disability as fundamentally a problem of individual rights and discrimination; and the more radical disability justice movement, which sees disability as a central concept in any system of inequality, since such systems necessarily rely on distinguishing between those able or entitled to receive certain rights or benefits and those disabled or not entitled to receive them.  Continue Reading...
Alumni Spotlight
POLS Alumni John Imobersteg graduated from law school at the University of San Francisco in May. About a week ago, he learned that he passed the July 2022 CA Bar Exam on the first try!
In the summer of 2021, he interned for the U.S. Army Judge Advocate General's Corps at the United States Military Academy in West Point, New York. In the fall of 2021, he was a clerk for the family court in San Mateo County. In spring 2022, he was a clerk for the San Mateo County District Attorney's Office. After the bar exam, he was a post-bar clerk for the Santa Clara County District Attorney's Office.
John is currently in the commissioning process for a reserve commission with the Army Judge Advocate General's Corps. Starting to apply for jobs in the family/criminal law field.
Fellowship Opportunities
Capital Fellows Programs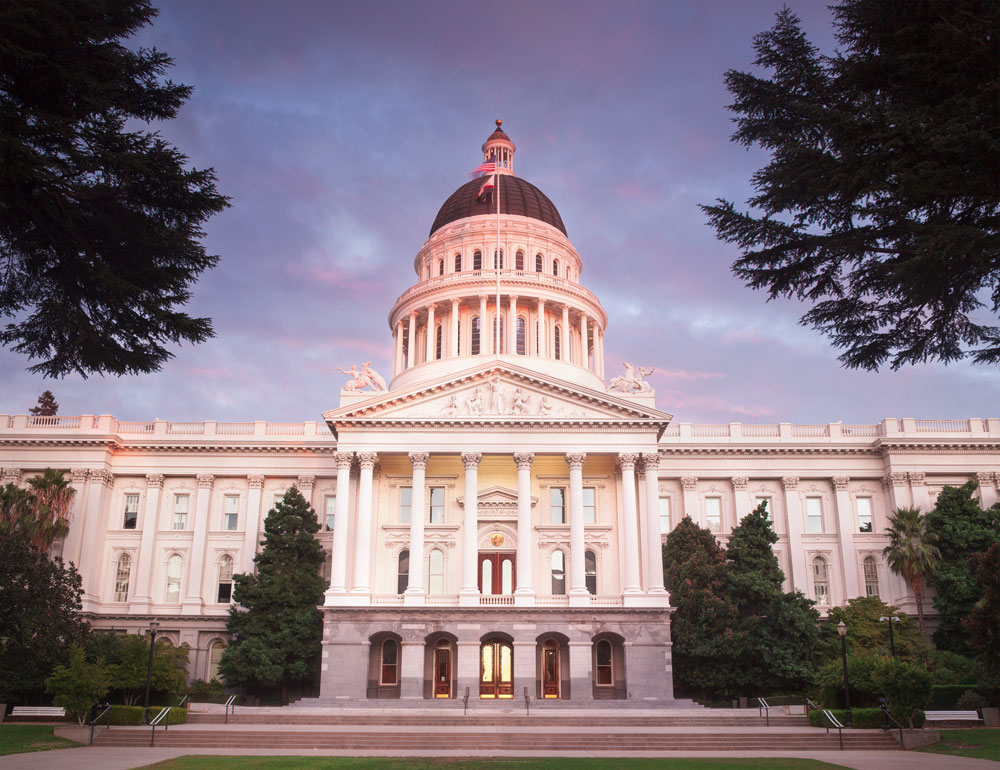 The Capital Fellows Programs are nationally recognized public policy fellowships which offer unique experiences in policy-making and development in each branch of government.
Capital Fellows are placed at some of the highest levels of California state government and assist state legislators, senior-level executive staff, and court administrators with a broad range of public policy issues and projects and are typically given assignments with a significant amount of responsibility and challenges.
Rooted in experiential learning and public service, Capital Fellows spend 10-11 months as part of a cohort working in a Legislative, Executive or Judicial Branch office. Click here for more information. APPLICATION DEADLINE: February 6, 2023 by 5:00 PM
AmeriCorps VIP
Students who are graduating this December:
Cal Poly now has 4-6 openings for 6-month Fellowships from Feb 2023 to July 2023. (This often opens the door for the potential to continue for a full year term.)
Fellows in these positions build volunteer capacity at nonprofits and government entities, and receive $2000 monthly living stipend. Current partner sites include SLCUSD, Bike SLO County, and Ecologistics, and may also include Cal Poly Food Pantry and Cal Poly College Corps Team (these last two are tentative).
Further details are available at https://bit.ly/VIP-CalPoly-SLO_HT, along with information on how to apply.
Deadline to apply is January 13th
Internship and Volunteer Opportunities 
Cause Leadership Academy Paid Internship Program
The CAUSE Leadership Academy (CLA) for students, is a nine-week, paid, internship program that prepares college undergraduates to lead and advocate for the Asian Pacific American (APA) community on their campuses and beyond.
As the fastest growing community in the United States, APAs should be reflected in the leadership of the public, private, and non-profit sectors. Founded in 1991, CLA (formerly known as California Asian American Student Internship Coalition) sought to develop this pipeline of leaders in the APA community. Since then, 30 cohorts of CLA graduates have gone on to leadership positions on their campus, run for political office, and have become leaders in politics, business, and nonprofits.
Through CLA, interns gain a deeper awareness of the civic issues facing the APA community in California and learn how to be civically engaged across sectors. CLA provides development in 4 specific areas: APA Issues, Civic Engagement, Leadership Development, and Networking. By the program's end, interns will not only have new skills, knowledge, and networks, but also will have made change through their community impact project!
Program Duration: June 2023 - August 2023
Paid Job Opportunities 
**Check back next week for more opportunities**
Student Scholarships and Prizes
The Bert & Phyllis Lamb Prize in Political Science
The Lamb Prize in Political Science promotes the value of education by supporting and rewarding undergraduate papers that combine innovation and good writing related to policy or politics. Deadline February 17, 2023
Dr. Juan Andrade Jr. Scholarship for Young Hispanic Leaders
USHLI has awarded over $1.5 million in scholarships and internships to students from disenfranchised groups. Most notably, the Dr. Juan Andrade Jr. Scholarship for Young Hispanic Leaders seeks to recognize Hispanic students who share Dr. Andrade's lifelong commitment to servant leadership. Application deadline November 30, 2022 @ 11:59 PM CT
Educational Opportunities
The University of Michigan School for Environment and Sustainability (SEAS)
At the University of Michigan School for Environment and Sustainability (SEAS), you can explore your passions and develop your potential — your way. Our small, supportive community within a world-class university provides access to internationally known faculty, extensive opportunities, and a vast alumni network all dedicated to your success. https://seas.umich.edu/

U.C. Berkeley Political Science Department PhD Program
Are you considering applying for a PhD in Political Science?
https://polisci.berkeley.edu/graduate-program
California State University, San Bernardino Masters Programs
M.A. National Security Studies
The two-year M.A. program provides a comprehensive curriculum with foundations in strategy and strategic studies for students interested in pursuing careers with the U.S. government or with private companies. M.A. program alumni serve in many different career fields, including defense, security, intelligence, and counter-terrorism. For more information, click here.
M.S. National Cyber Security Studies
The two year M.S. program is one of the few graduate programs in the country that is devoted to the study of U.S. national cyber security. M.S. program alumni serve in many different career fields, including defense, security, intelligence. For more information, click here.
University of Oregon Masters in Education Policy and Leadership
University of Oregon a new master of science degree in Education Policy and Leadership. The program combines theoretical grounding in education policy and leadership studies, advanced methodological and analytic training, and applied and practical knowledge in students' individual areas of topical interest. You can reach out to epol@uoregon.edu for questions or visit their website.
Campus Events and Opportunities
The 2023 CSU Research Competition is now open!
The CSU Student Research Competition is held each spring to promote excellence in undergraduate and graduate scholarly research and creative activity by recognizing outstanding student accomplishments across the 23 CSU campuses.
The competition is open to all disciplines and to current undergraduate and graduate students and 2022 alums. Cash prizes are awarded.
Submissions are due F 1/20/23 at 11:59pm CA time. 
Learn more:
W 1/11/23, 1:10-2pm – Hybrid CSU Research Competition Info Session. Building 38, Room 114 and Zoom Meeting ID 883 6250 1116
Stay up to date! Follow the Office of Student Research on Instagram @calpolystudentresearch
Cal Poly Symphony to Feature Madrone String Quartet
The Cal Poly Symphony will begin its concert season with the Madrone String Quartet at 3 p.m. Sunday, Dec. 4, in the Performing Arts Center's Christopher Cohan Center. 
The Madrone String Quartet will join the symphony for a collaborative season opener that features side-by-side performances, captivating chamber music and Antonín Dvořák's Symphony No. 9, "From the New World."
Three of the Madrone String Quartet's members — Emily Lanzone, violin; Mike Whitson, viola; and Laura Gaynon, cello — serve as applied faculty members in the Music Department. With guest artist Valerie Berg-Johansen, violin, all four musicians bring rich experience in performance and education to this collaboration, which is part of their residency. In addition to performing, the musicians will coach students of the symphony in orchestral and chamber music.
Faculty Office Hours and CLA Advising
POLS Department Fall 2022
Faculty Office Hours and PDF version
Graduate School Advisor
POLS Department announcing new position, Graduate School Advisor, Professor Shelley Hurt, who has successfully steered many Cal Poly students to great success in graduate schools across the country from UC Berkley to Columbia University, to the London School of Economics in Britain. She is now providing advice to all interested POLS students who wants to pursue their education at the M.A. or Doctoral level in pursuit of a broader horizon of career opportunities. 
Email her or drop by during her office hours (47-11C) on Tuesdays from 1-5pm.
College of Liberal Arts Advising
CLA Advising is available to assist with registration, academic planning, general education and other degree requirements. referral to support services, advice about major changes, and academic policies and procedures.
CLA Advising Center Hours and Contact Information: 
In-person & Zoom Appointments: 
Monday - Thursday: 9:00am - 12:00pm & 1:00pm - 4:00pm
Virtual Fridays: 9:00 am - 12:00pm & 1:00pm - 4:00pm
Zoom Drop-In Advising: 
Monday - Friday, 10:00am - 12:00pm & 2:00pm – 4:00pm 
(hours extended during busy times, see website)
No in-person drop-in advising
Archives
Related Content